Importance of Directory Listings and Reviews
Posted by Matt Elggren on Sep 17, 2015 in Marketing and Sales Blog | 0 comments


The Importance of Directory Listings and Online Reviews Cannot be Understated.
Yesterday I attended an  event for the Utah chapter of the American Marketing Association' Lunch and Learn session called "From Clicks to Conversion- Why Focusing on Traffic is Doing it Wrong".  The focus was on how one can improve organic ranking using local directories and online reviews.
Google is constantly changing  Its algorithm and Its rules on how It decides what is relevant or not. The most recent update looks at local directory listings and online reviews to help guide users to relevant and local sites.
Online reviews
To get a better organic listing it is recommended that a company has at least five reviews on the top five online review sites; Google, Yelp, Yellow Pages, Insider Pages, and Super Pages.
www.Onlineimage.com offers services as well as a form you can give to your clients to request they do a review for you.
Several online review sites have templates you can use to email or mail to your customers to request they give you a review.  The following are links you can use to help you reach out to your customers online.
Google mailed/hand out, Google e-mail template, Yelp guidelines, Yelp sticker request, Super pages review template.
Request reviews from you customers often to quickly organically rank higher online.
Dont take my word for it. Here is great infographic I found online that lays out just how important online reviews can be to a business.  (see http://blog.itcentralstation.com/the-online-review-revolution/)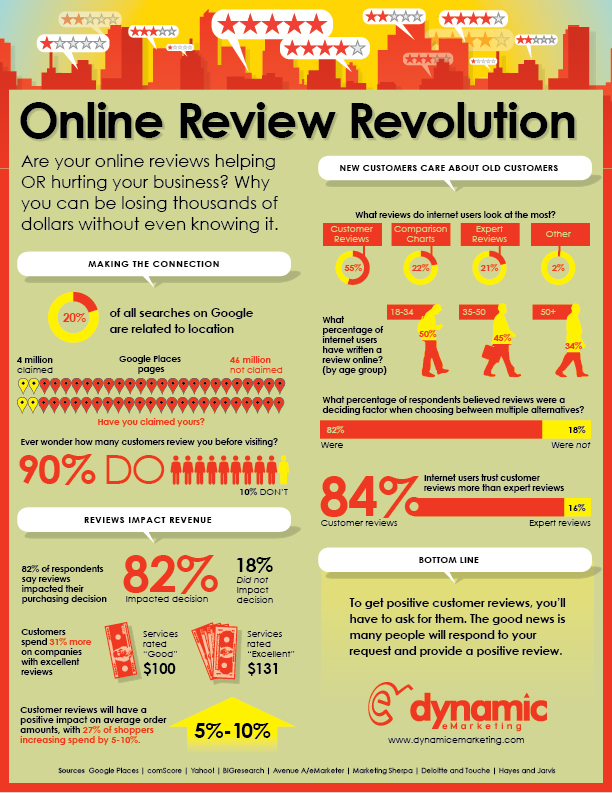 Local Directories
Local directory are also important,  they help tie your business to a local relevant site.  A good way to get a credible and reliable link to a local and relevant source is to use local media sites. In Utah a few places that are good are The Standard Examiner, ABC 4 News, KSL, and much more.
Local news sites are great to be tied to since they are constantly updating and creating new and relevant local content online.
Here are a few sample sites. Utahfindit, good4utah.biz, KSL News
There are hundred of sites online that have a directory listing function. Attached is a list of the most popular provided by Onlineimage.com.
Make sure all of your information like website, physical address, and phone number are consistent across all platforms and directories. Something as simple as an old phone number can hurt your online rankings. Many companies offer services to do this for you. They have software that can comb through all your directories and look for inconsistencies and fix them. These same company probably have some sort of reputation management software you can use to monitor your online reviews as well.
Review
Online reviews and local directory listings are great tools to help get your site listed higher organically. Request online reviews from your customers frequently and try to get at least five ratings on the top five review sites. Use local online directories to get a strong local ranking.
Please visit Onlineimage.com to request more information about the services they offer to help your company get the desired online results. Click Here
Questions? Comments? Leave a remark below.